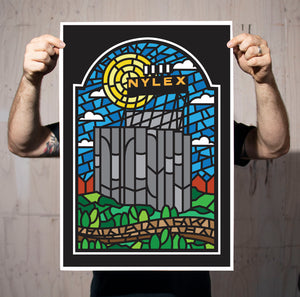 Love notes to my home town, Melbourne. 
Celebrating The Nylex Silos and clock, a landmark of inner city industrial Melbourne of yesteryear and sitting in terrible traffic watching the minutes tick by. I created a physical, 3-D version inside the Nylex building in 2018 as part of 'UNTOLD: Melbourne' exhibition.
I started working with this graphic style in 2018 and these prints are the continued exploration.
A2 size on 300gsm art board, matte finish with spot gloss UV.
**if you buy the set of three you save $$ on each one and the set of 3 ships free!