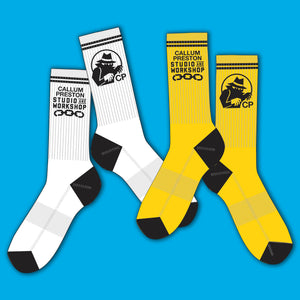 2 to a set. 1 yellow pair + 1 white pair. 
Reinforced toe and heel with cushion foot. 
Knitted Brand NEW Callum Preston sneaky guy design.
Cotton/Poly/Elastane. Delightful. 
PREORDER NOW - Delivery late 2023/early 2024.
*Don't forget, a printout of a gift is nearly as good as the actual gift. If you're buying for someone, we'll send a bonus Flinders Strike Postcard with apologetic delay note and a happy holidays message. Or anything you'd like, really.