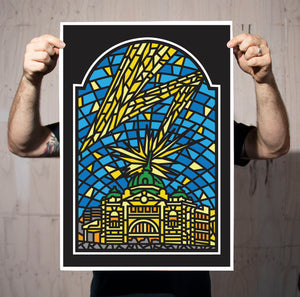 If you completed the puzzle maybe you never want to look at this again. But on the off chance you do, a new print is now available! Easier than doing the puzzle and trying to wrangle it into a frame.
Previously released as a large-format, 10 colour screen print (limited run, long since sold out) I have now made it available with slight design variation to match the other two current designs (Arts Centre + Nylex Silos).
Love notes to my home town, Melbourne.
I started working with this graphic style in 2018 and these prints are the continued exploration.
A2 size on 300gsm art board, matte finish with spot gloss UV.
**if you buy the set of three you save $$ on each one and the set of 3 ships free!